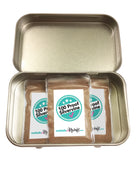 Description
Our 100 Proof Silvervine is ground from 1 ingredient: the fruit from the silvevine plant, which is a member of the kiwi family! You receive 2 large self-seal pouches of silvervine in a tin. The pouches keep it fresh until you use it!

When exposed to silvervine cats enter a euphoric state that mimics catnip except it is more potent due to the presence of two cat attractants as opposed to catnip's one.  In fact, a recent study published by BMC Veterinary Research found that while one out of every three cats did not respond to catnip almost 80% of the domestic cats responded to silver vine.
It's non-toxic. And can help relieve stress and anxiety. Sprinkle on toys, beds, cat furniture. A little goes a long way!
And no worries. It's safe for daily use. Non-addictive (well sort of!!)