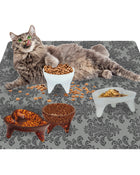 Description
Works like a miracle! Our fabric cat litter mat is made of microfiber with a rubber non-skid backing. It is stain and moisture resistant. This pet litter mat is super easy to clean and keep free of cat litter and debris, pee and odors. The best news is, you can machine wash and dry it.
This best litter mat captures cat litter within its textured two-layer surface. The rubber non-skid backing keeps the litter mat in place. And it looks great too – it has the look and feel of textured velvet!
Many stains just spot clean with a damp cloth or paper towel. Deeper ones require spot cleaning with a pet-friendly cleaner.
Cat litter box mat measures 24in x 30in. 60.9cm x 76.2cm.
Care Instructions:
Shake or vacuum off excess cat litter. If you vacuum this kitty litter mat make sure you stand on it while vacuuming so the suction doesn't grab the mat which may damage the surface. Spot clean as necessary with a gentle, pet-friendly spot cleaner. Machine wash in warm (not hot) water on a gentle cycle with pet-friendly detergent. Machine dry on a cool/warm NOT hot cycle. Do not use bleach.