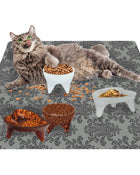 Description
Raised Round Cat Bowl Tortoise ALSO in Blue Ice
Round Shaped and pretty… but also because it is perfectly sized for your cat's whiskers as he senses how deep the cat dish is and where the food is! This cat food bowl holds just the right amount of wet food. Best for serving up wet cat food but can be used for dry cat food. Not recommended for water.
Raised pet food bowl
Our pet food bowls are made of a special non-porous human grade plastic resin that is BPA and Phthalate Free. It looks and feels like glass. It is weighty. But it holds up like plastic. It is difficult to break them. Depending upon how and where they are dropped, the legs might chip but the bowl will be intact.
Surface cleans really easily because it is so smooth.
Round Bowl measures 6in x 5in and is .75in deep at the center or deepest part. 15.2cm x 12.7cm and 1.9cm at the center; comfortably holds up to a 6 oz. can of wet food (standard wet food can size is 3 oz.)
Care Instructions:
We recommend hand washing this cat dish but it can be run through the dishwasher on the top rack on an occasional basis.