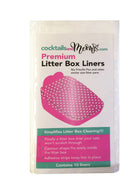 Description
NEW PACKAGING!!!! SAME GREAT LINERS!!!!
Cat litter box liners
The Perfect Litter Box Liner is an extra large, oversized liner that extends over the edges of the Priscilla's Pan. It has an opening to slip over the heart in the back, so that the liner stays in place. Several adhesive stripes are placed strategically on the edges to help keep the liner in place. The Premium Litter Liner makes cleaning up after your cat(s) a snap! Each package contains 10 Liners.
Size of each liner measures: Footprint of 20" long x 16" wide PLUS 5 - 6" all the way around to cover the sides of the pan and extend over the edges of the pan
LINERS MUST SHIP VIA PRIORITY MAIL DUE TO WEIGHT! PLEASE SELECT PRIORITY MAIL AT CHECKOUT!